What we do
Orphans
Our main activity is to support orphans.
We provide
education
food
health care
psychosocial support
shelter improvement
skills empowerment
for 56 children on a daily basis. This is done by providing meals for all orphans at lunch and dinner time, paying their school fees and educational needs, providing clothes, monitoring their health and obtaining medical assistance as needed, providing means of sanitation and giving them a loving environment and counselling when needed.
The children return to the homes of their guardians at night.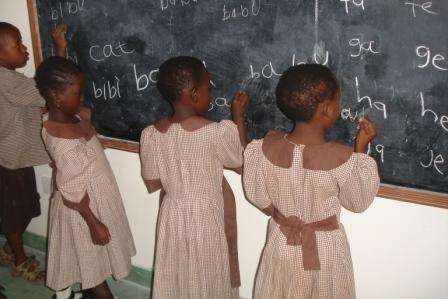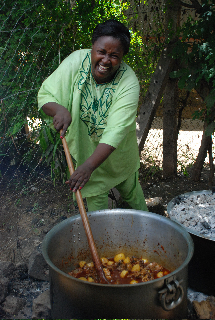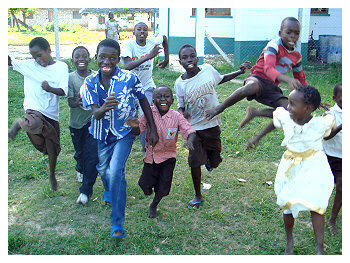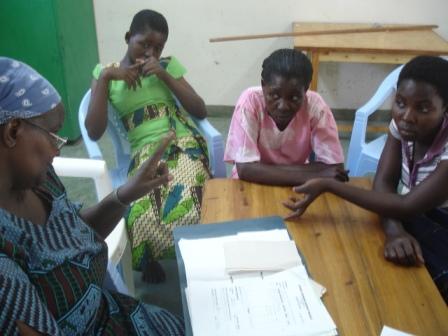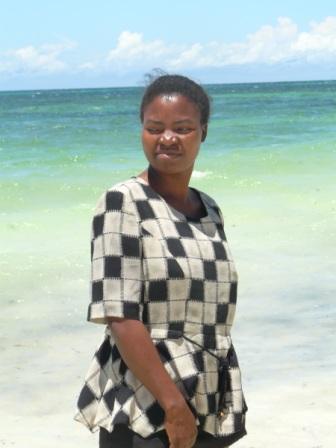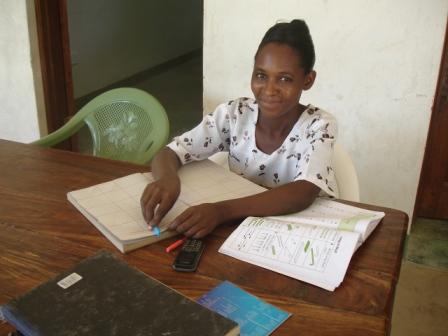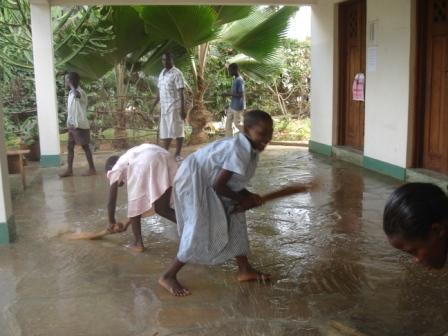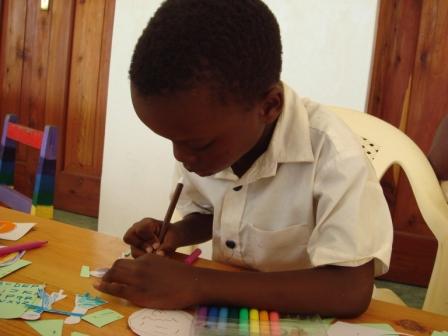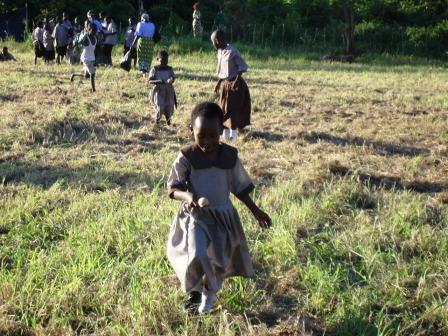 Outreach
The women also run an outreach programme for other needy families in the township, providing clothes and other items when available, and keeping an eye out for other destitute children who can be taken care of by Upendo when sponsorship becomes available.
Partial sponsorship programme
With money from a special fundraiser by Jane Cox of Glendoick, we supported 16 needy children through 3 years of nursery school, including lunch. These children are not orphans but need assistance to get their first round of education before entering primary school.
We are currently seeking more funds to support these children's further education. Please get in touch if you are willing to help.
Specific help needed
In addition to sponsorship funds for individual children, we need:
funds for improving orphans and guardians' homes

funds for the skills empowerment programme

funds for the health care programme

help with maintaining our website
Please get in touch if you would like to donate your time or money towards any of these.
Our latest activities.........
October 2015. Love Day
On 3rd October, 2015, the children, members of Upendo Women's Group, childrens' guardians and volunteers came together to share about life in school, Upendo, at home and in the community over a 'Love Breakfast'. Through singing, dancing, poems, speeches and mingling, the children and their carers were revitalised and their hope renewed. Through such communal activities, we believe that we are helping the children to become independent and responsible citizens of their society.
July 2015. Two Skydives to raise funds for Upendo.
Barney Davis and his girlfriend Beth did a Skydive to raise funds for Upendo. Hannah Flood-Page jumped out of a plane for Upendo too! See here for the video. Thanks to all those who supported them.
December 2014. New roof for the Kadenge family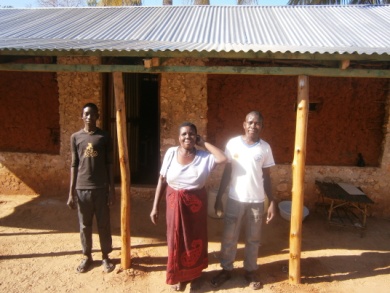 During the year, two brother orphans under our care had their house renovated. The family had been living under fear as the roof was leaking and due to the poverty surrounding them, they could not meet the cost of renovation. A local organization called Kilifi Gold Triathlon, whose goal is to support development projects within the community, teamed up with Upendo children, members and Kivukoni School to raise funds for this work.
November 2014. Our first graduates from secondary school were girls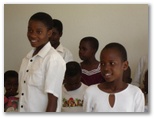 Santa Chengo and Roslyn Ziro took their final Secondary School exams in late 2014. These are our very first graduates from secondary school. Santa and Roslyn have been supported by Upendo for 10 years. Three more children will progress from Primary to Secondary schools in January 2015.
November 2014. Accounting system upgraded
As we have grown and the project has become more complex, our accounting system has struggled to deliver what we need in order to properly manage the finances. We have therefore just installed a new system, engaging two local accountants to help us establish and validate the system. This is proving to be really useful for planning and daily management.
October 2014. Transition plan formulated
This document lays down the plan for transition of the Upendo Orphans Support Project to a new structure beginning at the end of 2014 through to appointment of and handover to a new Director by the end of 2016 when the current Administrator (Grace Mzungu) will retire. The decision to transition to a new structure is precipitated by two major changes to the project within the next 2 years. First, Margaret Mackinnon, who has worked closely with Upendo over the past 10 years, will be leaving Kilifi and so will be able to have less direct input into its administration, particularly on the financial management. Second, Grace Mzungu, the founder and current administrator of Upendo will retire on December 31st 2016. As Grace runs all aspects of the project, successful appointment of a successor with the capacity to fill her role is vital to the project's sustainability.
January 2014. Volunteers from Australia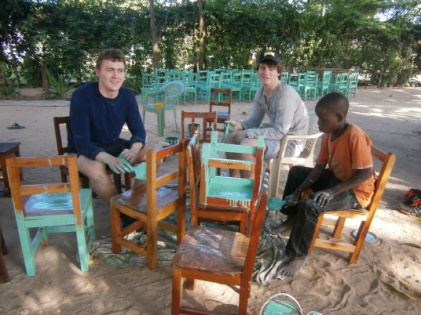 Hugo and Luke Visscher from Brisbane, Australia, came and spent a month at Upendo to spend time with the children. They then went home and raised $2600 for Upendo from Time, a global health equity organisation within the University of Queensland, Australia.
March 2013. Skills empowerment project started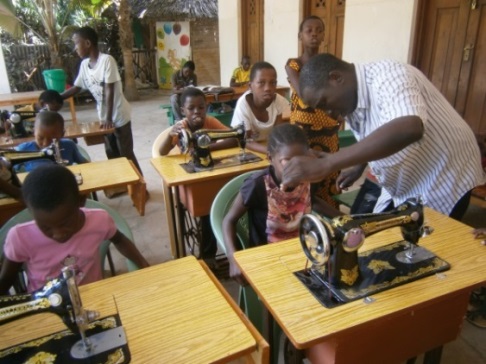 We have started a skills empowerment programme to give the orphans opportunity to develop skills through part-time vocational training so that they will be able to earn a living once they enter adulthood regardless of their performance at primary school examination. Every Saturday mornimg, they are taught garment making using machines donated by a well-wisher.
January 2013. New resource centre constructed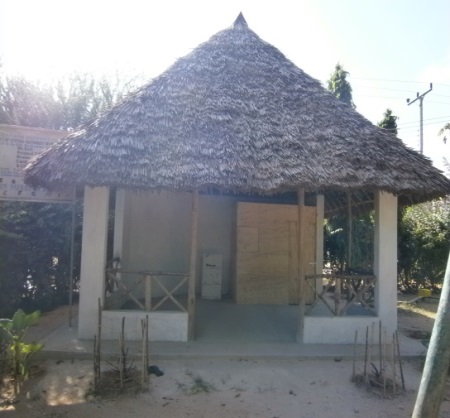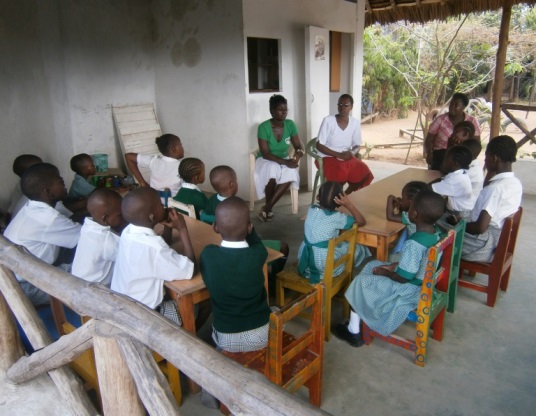 With a special donation from Ceri Filer and family, We constructed a new resource centre in January, 2013. Furniture and books were acquired and the facility is now in full use as an area for reading, discussions and doing homework.
June 2012. Strategic plan for next 3 years formulated
The women's group met on June 24, 2012, to formulate the strategic plan for the next phase of the project. One of the next big challenges for the project is to raise enough money for secondary school education of the orphans. As secondary school education is not free in Kenya, we will need £500 per child per year to cover their fees and other costs. If you would like to contribute to our special fund for secondary and vocational education, please get in touch.
May 2012. A new house built for Bahati Mrima and her family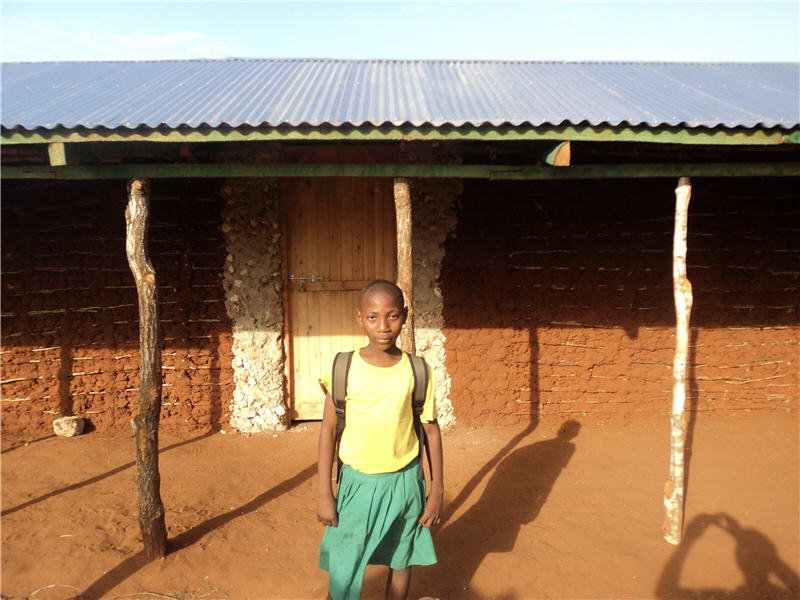 With money raised by Ursula Hall College at the Australian National University in Canberra, Australia, we have embarked on a house reconstruction project for orphans in desperate need of better homes. We completed the first of these in June 2012. Bahati, her 3 sisters and her mother are now in their new home. If you would like to contribute to this project by buying beds, mosquito nets, cooking ware and other items, please let us know. This family has virtually nothing.
December 2011. A new playground.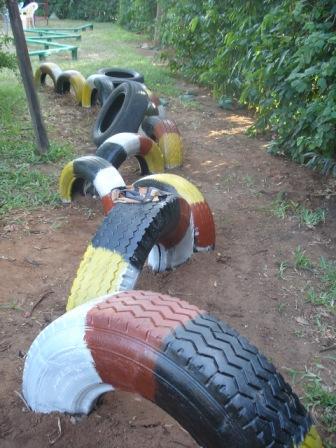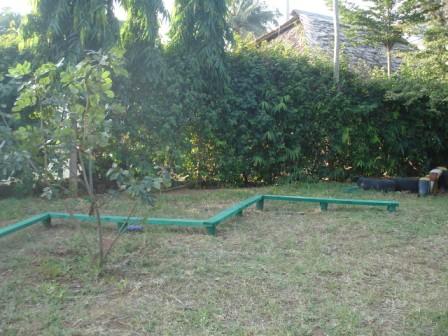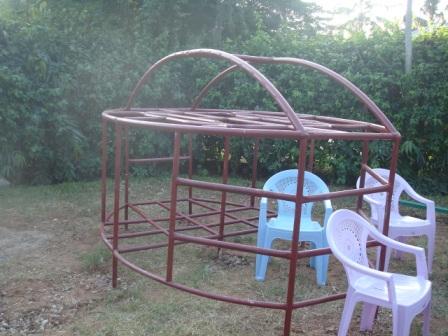 With money raised by Trudie Lang's young boys, we have upgraded our playground equipment. We now have new swings, a see-saw, a slippery slide, a snake of tyres, a climbing frame and a balancing walk. The children are looking forward to using it when they return from their holidays in January 2012 .If you would like to contribute to the cost of playground maintenance, please write to us.
December 2011. A new Day Care Centre is built.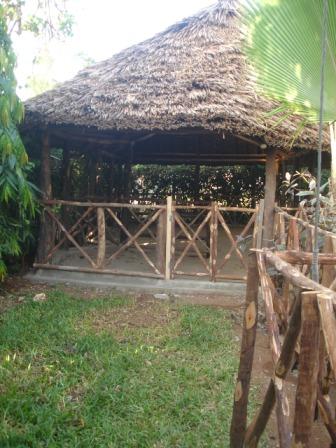 In order to raise funds for the orphans support we run a nursery school and primary school. In response to demand for pre-school care we built a day care centre next to the nursery school in December 2011.
December 21st 2011. Christmas Party and charity sale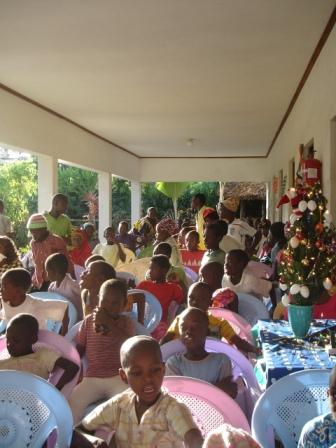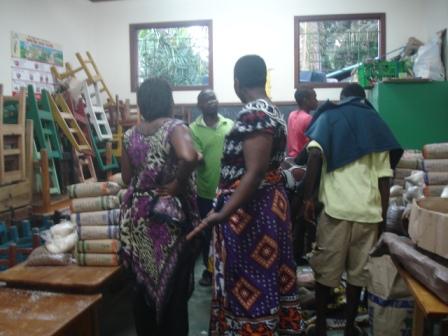 All the children, their guardians, project staff and womens's group ladies gathered for a Christmas party on the verandah. A huge meal of pilau was prepared and enjoyed by all.
The guardians were given large packs of food to care for their families during the holiday period.
In the morning, the ladies held a sale of goods donated by members of the community and raised KES28,000 (£230.
December 3 2011. Christmas decoration-making with KESHO.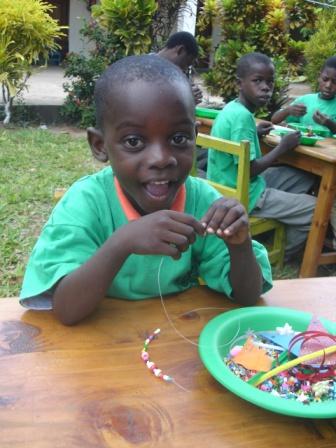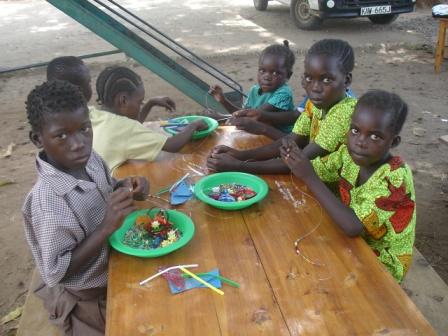 We held our annual Christmas decoration making session on Saturday 3rd December. Decorations are sent out to sponsors along with cards, school reports and newsletters. As usual, we joined together with KESHO, a local organisation that sponsors children in Kilifi district through school.
November 2010. Public parade with Salvation Army Band to raise awareness for orphans in Kilifi
In November 2010, in an effort to raise awareness for the plight of destitute children in Kilifi, we organised a parade through the streets of Kilifi. We hired the Salvation Army Band, invited local charities, schools and organisations to join us, made banners and processed around Kilifi. As we marched, people came out of their houses and shops and joined in the fun. It was a momentous event. Share the fun by taking a look at our Procession Album. We want to hold this event again and need financial support of £400 to do this. Please see the Contacts page if you wish to donate something towards this event.
Upendo means love in Kiswahili.